Psychiatric Services & Support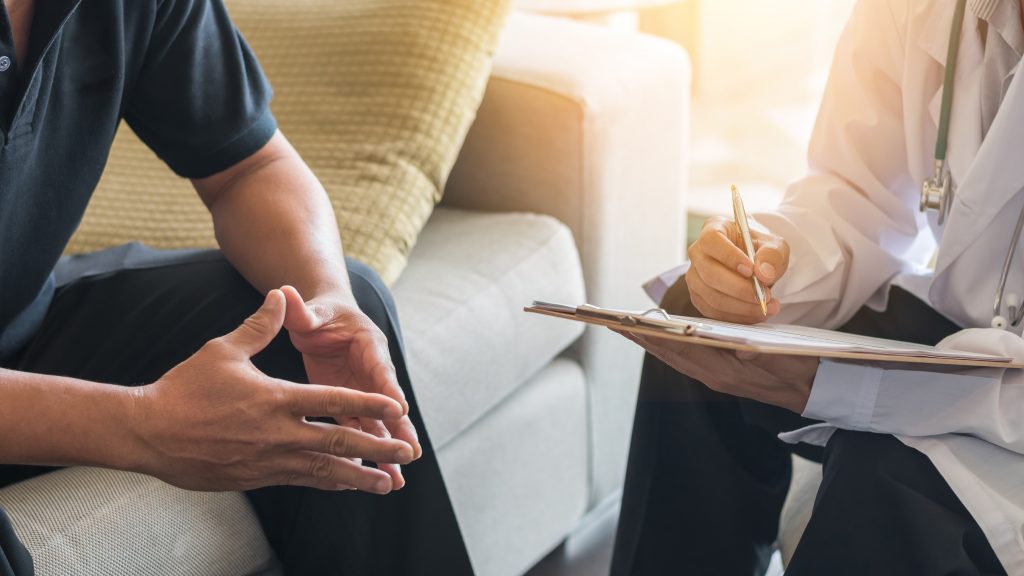 Green Door is certified as a Core Service Agency (CSA) by the District of Columbia Department of Behavioral Health, is a Medicaid Free Standing Mental Health Center (FSMCH), and accepts a number of commercial health insurance plans. Treatment services fall into two broad categories: traditional Outpatient Clinic Services and Care Management.
OUTPATIENT CLINIC SERVICES
Diagnostic Assessment (Intake): Care planning starts with a comprehensive initial assessment, including a careful psychosocial history gathered by a Licensed Professional Counselor (LPC) or Licensed Independent Clinical Social Worker (LICSW) followed by a diagnostic review by a psychiatrist or Psychiatric Nurse Practitioner. What happens when a person with a mental illness calls Green Door for help? Green Door can usually set up an intake appointment within a week. Intake staff and the prospective client meet to assess his or her needs and goals and, working together, develop an initial Recovery Plan. The second step is a meeting with one of Green Door's psychiatrists or psychiatric nurse practitioners to confirm a diagnosis and to develop a plan of psychiatric care that might include medication to help alleviate the symptoms of mental illness.
Counseling and Psychotherapy: The service that is most commonly sought is individual counseling or psychotherapy. Green Door Behavioral Health offers a range of modalities with an emphasis on short-term solution-focused work. Clinicians in our practice have expertise in cognitive-behavioral and trauma-focused strategies as well as a number of evidence-based approaches. Certified Addictions Counselors are also available to provide individual and group counseling for alcohol and drug use, including where those co-occur with mental health conditions such as depression, anxiety, or post-traumatic stress.
Medication Management: Because optimal treatment for many mental health complaints includes a combination of talk therapy and medication management, clients have access to a number of highly qualified psychiatrists and psychiatric nurse practitioners. While some individuals choose to have ongoing "maintenance" managed by their primary care provider, follow-up and monitoring by our prescribers is available for as long as needed.
CARE MANAGEMENT SERVICES
For individuals with complex needs, care coordination or care management may be appropriate. For example, many individuals seeking services through Green Door Behavioral Health need assistance in getting linked to housing assistance, obtaining and maintaining disability benefits, or getting connected to primary care. We offer four different packages of care management services: Community Support Services, Integrated Primary and Behavioral Health Care (Medicaid Health Homes), Assertive Community Treatment (ACT); and Private Pay Intensive Case Management (ICM) Services. Each of the services described here is supported by a 24-hour on-call service that provides live phone consultation and face-to-face assistance where indicated under the direction of a licensed mental health professional. Specialized care management is available for individuals involved in the criminal justice system, homeless individuals, those with co-occurring mental health and substance use disorders, and transition age youth (18-24).
Community Support Services: Green Door provides Community Support Services to more than a thousand individuals under the DBH Mental Health Rehabilitation Service (MHRS) benefit. This is a clinical model of case management that emphasizes coaching on recovery skills and teaching strategies for improved illness self-management. The Community Support Worker's (CSW) role is to help a client achieve the goals established in the Recovery Plan either through direct assistance or by linking to other resources. Goals might include basic improving independent living skills such as money management, meal planning and cooking. It may involve helping a client find housing, a job or medical care. It could include assistance with a client's educational or employment goals or facilitating enrollment in other services such as Green Door's Next Step Program. The actual assistance provided by a Community Support Worker is highly individualized and targeted to helping the client achieve their goals and maximize their independence.
Health Home/Integrated Primary and Behavioral Health Services: Health Home, a new benefit for DC Medicaid beneficiaries, represents an exciting new enhancement to the standard Community Support program. This new approach embeds nurse care managers and physicians or nurse practitioners with expertise in physical health care into teams to assure that evidence based and best practices for integrating physical health care are used. Services are reimbursed at a flat monthly rate and ongoing certification requires that the program demonstrate improved health care, better health (based on disease specific health indicators), and lower total spending by reducing avoidable emergency department and inpatient stays.
Assertive Community Treatment (ACT): ACT is a high intensity team approach for working with individuals with disabling psychiatric illness. Recognized on SAMHSA's National Registry of Evidence-Based Programs and Practices (NREPP), ACT has been proven effective where individuals whose symptoms are poorly controlled, leading to repeated hospitalizations, or who for any reason need multiple contacts per week on an ongoing basis.
Intensive Case Management—Private Pay (ICM): The above services are benefits provided primarily through specific DC Medicaid programs. For individuals and families who do not qualify for DC Medicaid, Green Door Behavioral Health now offers self-pay options for Intensive Case Management at competitive monthly rates. Commercial insurance plans often cover only traditional clinic services and do not reimburse for care coordination. Green Door Behavioral Health's professional staff will provide outreach and community- or home-based care to help bridge the gap, especially where inpatient or emergency services have been required or housing stabilization services are needed but not covered by insurance. (Some commercial plans are willing to establish contracts beyond their standard benefit packages; Green Door's billing office is happy to work with the patient or family to negotiate such non-standard agreements where possible.)